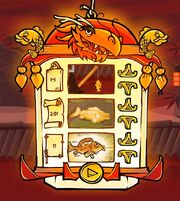 The "Year of the Dragon Riddle Challenge" is a challenge created by Rovio for Angry Birds Seasons. It involves the player getting pictures in the right order to view the video below. You should be able to find the needed parts to solve the riddle.
How to Solve
The pictures must have one golden fish, but not the top one. Check level 1-5 for actual answer.
Ad blocker interference detected!
Wikia is a free-to-use site that makes money from advertising. We have a modified experience for viewers using ad blockers

Wikia is not accessible if you've made further modifications. Remove the custom ad blocker rule(s) and the page will load as expected.